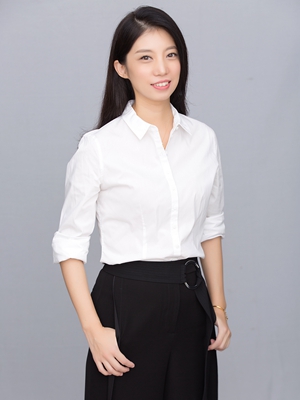 SONG Zening
Associate Professor
Ph.D. in Economics, Renmin University of China
Visiting scholar at Lancaster University, UK
教育背景 Education Background
Ph.D in Economics, Business School at Renmin University of China
MA in Foreign Linguistics and Applied Linguistics, Beijing Language and Culture University
BA in English Language and Literature, Beijing Language and Culture University
工作经历 Work Experience
2001.7- present:Lecturer, International Business School, Beijing Foreign Studies University;
2012.12- present:Associate Dean, International Business School, Beijing Foreign Studies University;
教学研究 Taught Courses & Research Field
研究方向 Research field: Consumer Behavior; International Marketing
教授课程 Taught courses: Introduction to Economics, International Business Negotiation
国际交流 International Communication Experience
2015. 2-7 Visiting Scholar . Lancaster University Management School, UK
2013.5 Guest Lecturer . Confucius Institute at Palacky University, Czech Republic . Confucius Institute at Kraków University, Poland
2010.1 Visiting Scholar . FHNW, Switzerland
2006.8-2007.7 Visiting Scholar . International Business School, Brandeis University, MA, USA
科研成果 Achievements in Academic Research
Publications
Journal Papers
1. Daryanto, A., Song, Z. & D. Soopramanien(2022). The COVID-19 pandemic as an impetus for pro-environmental behaviours: The role of causal attribution. Personality and Individual Differences, 187 (2022) 111415.[SSCI]
2. Daryanto, A. & Song, Z.(2021). A meta-analysis of the relationship between place attachment and pro-environmental behavior. Journal of Business Research, 123 (2021) 208–219. [SSCI]
3. Japutra A.& Song Z. (2020). Mindsets, shopping motivations and compulsive buying: Insights from China. Journal of Consumer Behaviour, 2020;1–15. [SSCI]
4. Zheng Y.,Liu W., & Song Z. (2020). A research on performance evaluation and management of academic conference from the perspective of organisational structure. Science Research Management, Vol.41,No.3.[CSSCI]
5. Song Z., A. Daryanto & D. Soopramanien(2019). Place attachment, trust and mobility: Three-way interaction effect on urban residents' environmental citizenship behavior. Journal of Business Research, 105 (2019) 168–177.[SSCI]
6. Song Z. & D. Soopramanien(2019). Types of place attachment and pro-environmental behaviors of urban residents in Beijing. Cities, 84 (2019) 112–120.[SSCI]
7. Song Z. & M. Huang(2018). The Effect of Mobile Payment on Compulsive Buying. Proceedings of China Marketing International Conference, [CPCI-SSH]
8. Song Z.(2018). A Review of Research on the Transmission and Dissemination of Chinese Culture among Overseas Chinese in China in the New Environment. The Chinese Culture in the Overseas Chinese: Heritage and Communication. Beijing: Peking University Press.
Conference Papers
1. Daryanto A., Z. Song & D. Soopramanien. (2020). A Meta-Analysis of the Relationship between Place Attachment and Pro-Environmental Intention: An Abstract. Paper presented at AMS World Marketing Conference.
2. Song Z. & A. Daryanto. (2019). The Effect of Place Attachment on Pro-environmental Engagement: the Mediating Role of Perceived Responsibility. Paper presented at China Marketing International Conference.
3. Japutra A. & Z. Song. (2018). Mindsets, Deal Proneness and Compulsive Buying. Paper presented at Global Marketing Conference Proceedings.
Academic Service
1. Associate Dean, IBS, BFSU, 2012-now
2. Deputy Chairman, China Association of International Business Negotiation, 2021-now
3. Topic-editor for Frontiers in Psychology [SSCI] (Topic: Individual and Cultural Differences in Sustainable Consumer Behavior), Feb-June, 2022
4. Reviewer, International Journals (e.g., Journals Journal of International Marketing, Journal of Business Research), 2019-now
Professional Experience
1. Consultant, 2021 OVAL China-Japan-Korea Business Contest, 2021.02
荣誉奖励 Honors and Awards
1. Undergraduate Teaching Achievements-first prize: Cultivating global competence in business undergraduates (project leader), 2021
2. Undergraduate Teaching Achievements-first prize: A model for interdisciplinary multi-lingual business talents education (team member),2021
3. Postgraduate Teaching Achievements-second prize: An educational model for business masters with global competence (team member),2021
4. 2020 BFSU Outstanding Teaching Award,2020
5. BFSU Outstanding Teaching Award-second prize,2017
学术兼职 Academic Part-time Jobs
2015- President:
Deputy Secretary-general, China Association of International Business Negotiation