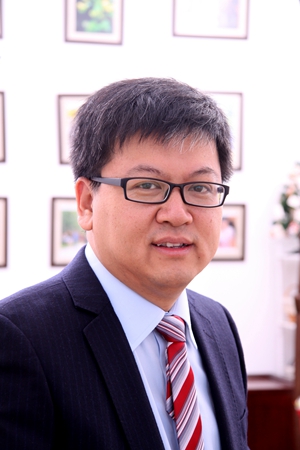 We are fortunate to live in an era of change. This country is experiencing tremendous changes that were unprecedented in its thousands of years of history, with industrialization and market reform rapidly spreading to even the most remote corner of our social life. Barely do we have time to think it over before realizing that we are already brought into this wave of reform. Everyone looks in a hurry, busy for a better tomorrow. Our friends are no longer confined to the places where they were born and brought up, and their footprints have gone beyond national boundaries. We've started to long for wider stages to show our talents, the dignity and honor of being in public focus, as well as the pleasance of an affluent material life.
The International Business School (IBS) of Beijing Foreign Studies University, experiencing and witnessing this era with every one of us, had jumped onto the reform bandwagon from the very first day of its establishment. Everyone participating in this process has made great efforts with their wisdom and perseverance, and their stories have become part of the IBS history of continuous development and innovation.
With future business leaders from around the world, IBS is committed to introduce the classical tradition and civilization of China and the world, deliver the common values of all mankind, explore concluded or unknown business knowledge, and discover the distinctive personality and life values of their own. Every step we make comes from our love for the cause, our persistence to dreams, our encouragement for innovation, and our eagerness for new things. In an exciting 10 years of growth, IBS has initiated the training and development of interdisciplinary talents in Beijing Foreign Studies University, propelling the transformation of BFSU towards a comprehensive institution as well as forming its own unparallel college culture – embracing changes yet with respect for authority and exploring a way forward with inspirations from diverse thoughts.
The 10 years expansion of IBS also coincides with the decade of rapid development of China's national economy. In the past 10 years, we have grown constantly in size, offering more and more projects. Today, we have proudly become a comprehensive educational institution providing diverse training programs ranging from undergraduate, master, studying abroad, international program for overseas students. All these programs have help to better reflect our striking features of interdisciplinary and international education. In the last 10 years, we have also won support of the Ministry of Education for the "211 Project" and "Quality Project", establishing the national level experimental teaching demonstration center. We have been awarded for our excellent teaching faculty and the first prize in teaching among universities in Beijing. Responsible for over 10 national research projects, five of our professors have been included in the New Century Talent Support Program by the Ministry of Education. In addition, students graduating from our school have been well received in the job market, with leading employment rate and employment level among similar institutions
What distinguishes IBS from other departments and other business schools lies in not only the knowledge structure we are delivering, but more importantly in our entire cultural atmosphere. We encourage everyone to remain curious for the future and develop their independent thinking and judgment, never refuse unknown knowledge with what is known, and remain tolerant and board-minded, constantly enriching ourselves with knowledge, vision, responsibility and powerful inner qualities.
Today, our excellent alumni have spread around the globe. From financial center in the East End of London to modern factories built up on African lands, from skyscrapers in Beijing's CBD to prestigious universities in Boston and Chicago, from Shanghai on the Huangpu River to Hong Kong in the Victoria Harbor, they are presenting the ideas and culture of IBS and bringing them to every corner of the world.
Today, I am pleased to see that young people, from all parts of China and over 80 countries all over the world, are joining the family of IBS, and continue to make their efforts for the new stories of us into the future.
Huayong NIU
Dean of International Business School, BFSU