国际商学院举办留学生新生欢迎会
撰稿:admin 2021年03月09日 浏览 156 次
2021年3月1日,国际商学院通过网络会议形式举行2021级春季学期留学生新生欢迎会。国际商学院院长助理董丽丽、崔校宁、李文斌,留学生各职能办公室负责人,留学生会成员及2021级国际商学院春季学期全体留学生新生参加本次欢迎会。
会议伊始,董丽丽代表国际商学院对全体留学生新生表示热烈欢迎,并就学院基本情况、教育目标等进行细致的讲解,希望新生能够怀揣梦想、无畏前行,为新生们的大学生活引领方向。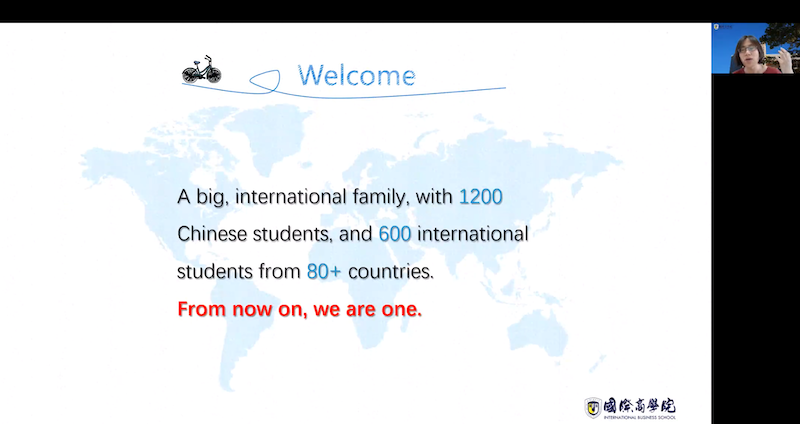 2018级韩国留学生GYEONGBAE以及2021级俄罗斯留学生DANA分别作为老生和新生代表相继发言,分别分享了在国际商学院的学习心得体验以及表达了对于在国际商学院美好时光的无限憧憬。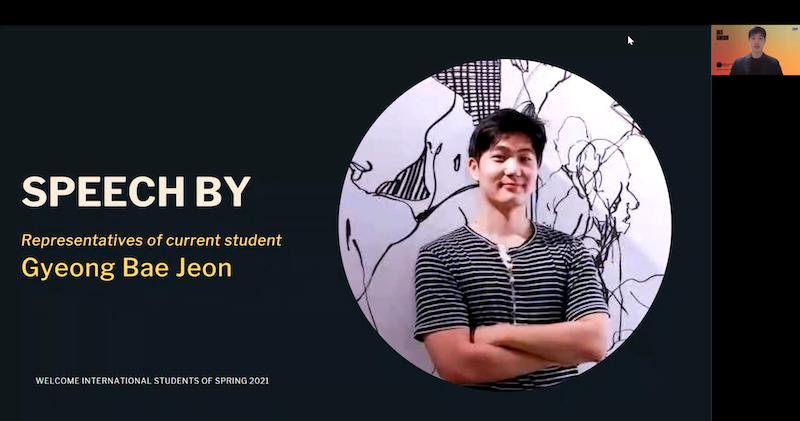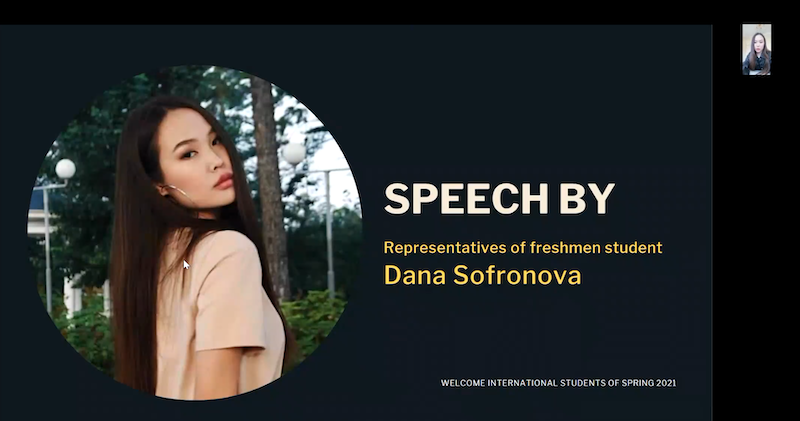 随后,留学生各职能办公室负责人分别就新生入学教育、来华留学项目以及课程安排等新生密切关注的问题进行了详细的说明和讲解。
最后答疑环节结束后,迎新会落下帷幕。本学期,共有来自14个国家的53名留学生新生加入了国际商学院。本次迎新会帮助留学生新生了解学院和专业、规划未来,让他们能更好地适应大学生活。
附1:老生代表GYEONGBAE同学的发言

Current Student Representative Speech
Dear school faculty, fellow students, distinguished guests, ladies and gentlemen,
Welcome to the IBS community, this is GyeongBae Jeon. I am currently a junior and serving as one of the board members in the IBS Union. Above all, I would like to express my grief upon being not able to look at all your faces and talk to you in one same room. I have to say that I am greatly desperate as much as you wishing to go back to our campus as soon as possible. Today, I wish I could briefly share my experience in BFSU to you. My journey in BFSU has been a blessing. My little advice can be derived from this quote, "Ask, and it will be given to you; seek, and you will find; knock, and it will be opened to you."
Let me start with explaining the attractive opportunity that IBS-BFSU faculty added into our curriculum is so called. "immersion week." It is where we get to visit bunch of innovative and pioneering companies in China and travel the famous tourist sites such as Hangzhou. It is worth for me to mention because it was an opportunity for me to interact with the actual business world and apply the business mindset. My team put heads together and tried to suggest new business ideas to the cities that we visited. It boasted a sheer self-confidence in myself that I could as well as start a business, which was what I needed. I hope you guys are excited as much as I do as you will be able to expand your perspective and have a sense of working in an international team.
Unfortunately, the situation is a bit different at this moment. However, this does not mean there is no door of adventure for you to knock. The faculties host numerous business competitions even during this time. You should consider partnering up with your fellow classmates and be the challenger so that you will facilitate your caliber to the next level. Your professors and the faculties will be here to give you the utmost help and provide the tools for you to grow.
Once everything settles down, the faculties and the IBS Union will be waiting in the campus to give you all the big hugs. We will be cherishing the moments in our community together. You will get to make new friends, the potential business partners, and feel the academic environment side by side with the Chinese students, and participate and organize numerous international events.
As my ending remarks, I wish that the experience here becomes your milestone to help you embark on your future journey successfully. Thank you.
附2:新生代表DANA同学的发言

Freshman Student Representative Speech
Hello dear teachers and students!
My name is Dana, I'm from Russia and I'm a freshman of International Business School. I've always dreamed of studying in China and I'm very proud to call myself a student of International Business School, Beijing Foreign Studies University.
I'd like to congratulate everyone who entered this year. We were selected and proved that we are worthy to study here.
I know this is a difficult time because of the pandemic. And I want to say "thank you" to the university for the opportunity for us to study from anywhere and also for the opportunity to study in English. IBS, BFSU gives a chance to meet new interesting people from all over the world and get the experience that you can't get anywhere else. All people understand the necessity of the development of foreign relations. The university gathers together the best students and I'm happy to be surrounded by people who want to build a career and prosperous life.
I am sure that the knowledge gained in International Business School will help all of us to fulfill our dreams and achieve success. The study here will definitely change our lives for the better. We are looking forward to start studying and will do our best.
I'm glad that we don't lose time and have the study online and also I am looking forward to seeing you all soon in China. Beijing is one of the most influential and economically powerful cities. Living and studying in the world capital is the best thing that can be.